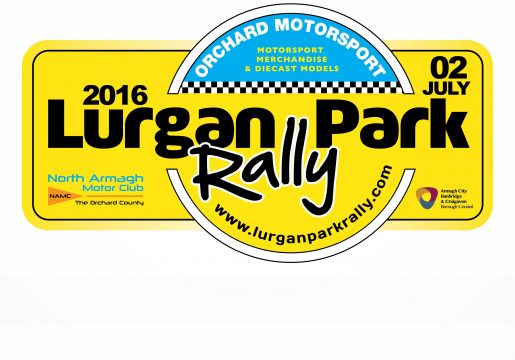 PRESS RELEASE: For immediate
release 27.06.16
This Saturday's Lurgan Park Rally, which starts at 10am, is shaping up to be another impressive event, with a top class entry as well as an array of family entertainments on offer. Fermanagh's
Garry Jennings in his Subaru World Rally Car has won the rally for the last three years and he promises he will be trying hard to make it a fourth top of the podium finish. Garry will be trying hard as
well to get his rallying back on track following the disappointment of retiring after just one stage of the Donegal International when his Impreza engine blew up. Engineers in the UK have been
working hard since to make sure Garry takes his place amongst the fifty invited crews contesting the 8 special stages of this showcase Orchard Motorsport sponsored event. Ranged against Jennings at the
top end of the entry list are some very talented drivers. Declan Boyle in his Fiesta WRC for example, although on his first visit to Lurgan Park in a 4wd car, is stunningly fast everywhere, and has
International Tarmac and National Rally titles under his belt as testimony. Behind Boyle is 11 times Lurgan Park winner Kenny McKinstry in his Subaru. Banbridge man Kenny so wants to make it a
dozen wins. Derek McGeehan in his attractive Mini WRC is seeded in the top six. The Draperstown man led Lurgan Park initially last year and eventually finished 3rd. Former multiple Tarmac
Champion Derek McGarrity, this time in his Fiesta WRC, could be another in the winning frame come Saturday, while Robert Woodside in his Fiesta R5 could spring a surprise. As well as the top
drivers in the World Rally Cars, much interest is sure to be generated by the leading Escort protagonists, with drivers such as Frank Kelly, Damian Toner, Keith White and Adrian Hetherington
promising to provide much sideways frenzied action through the course of the day. There are many interesting cars in the line up – Ray Brammer is making the trip from Kings Lynn, the popular Pat
O'Connell from Cashel has again entered, young 'tigers' include Callum Devine (Vauxhall Adam), Kyle White (Citroen C2) and Alan Smyth (Suzuki Swift). A driver likely to give the Escort men a run
for their money is Fivemiletown's Shane McGirr in his fantastically fast Starlet RWD. There are so many good drivers it is not possible to list them all here. Lurgan Park is not just about the action on
the special stages of course. It really is a Motorsport day out for families, friends and sponsors. The centralised paddock area of the beautiful park lends itself to socialising, barbecues and posing!
The comprehensive family entertainments, mostly all free, are really brilliant for the children, who always seem to leave the park with a smile on their faces – painted on or not! There will be static
classic car displays and a fascinating as well as exciting show by the Trialstar Motorbike Display Team. The rally is supported, not just commercially by Orchard Motorsport, Roadside Motors
(Lurgan) Ltd and Pacenotes Rally Magazine, but by the Armagh City, Banbridge and Craigavon Borough Council. The North Armagh Motor Club, under the direction of William Fullerton and Clerk
of the Course Barry Taggart, have a large and expert team to make sure the day goes smoothly, and above all safely. The same basic team has been organising the ultra successful Lurgan Park Rally
since its inception in 1980 when the late Bertie Fisher won in an Mk2 Escort. This year's event promises to be as good as all those that went before.
Orchard Motorsport Top Ten:
1 Garry Jennings/Michael Moran (Subaru Impreza WRC)
2 Kenny McKinstry/TBA (Subaru Impreza WRC)
3 Declan Boyle/Brian Boyle (Ford Fiesta WRC)
4 Derek McGarrity/Diarmuid Falvey (Ford Fiesta WRC)
5 Derek McGeehan/Laurie Smyth (Mini WRC)
6 Jonny Leonard/Geraldine Leonard (Mitsubishi Lancer Evo6)
7 Pat O'Connell/Adam Coffey (Mitsubishi Lancer Evo 9)
8 Stuart Biggerstaff/TBA (Subaru Impreza WRC)
9 Ray Brammer/Mo Downey (Subaru Impreza WRC)
10 Emma McKinstry/Kenny Hull (Subaru Impreza WRC)
Issued by: Patterson Agency Ltd. Telephone: 0044 2890 844111:
Filed Under: Lurgan Park Rally News